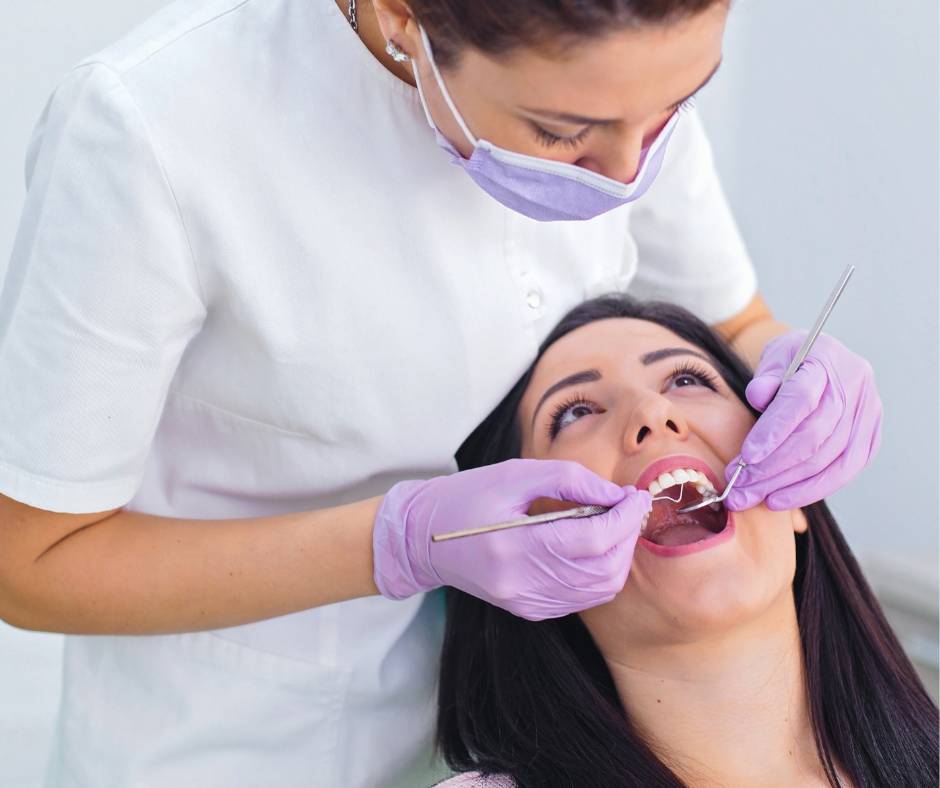 Aug 28, 2023
In the hustle and bustle of our daily lives, dental health often takes a backseat. We diligently visit doctors for annual physicals and keep up with various health routines, but dental checkups somehow slip through the cracks. Yet, the truth remains: regular dental checkups are not just a chore, but an essential part of maintaining overall health. In this blog post, we'll explain the importance of visiting your dentists for regular dental checkups, highlighting the benefits of preventative care and early detection of dental issues.
Preventative Care: A Cornerstone of Dental Health
Preventative care is like the foundation of a strong building – it lays the groundwork for good dental health. Regular dental checkups allow professionals to identify potential issues before they become major problems. Dental plaque, for instance, may seem harmless initially, but if left unchecked, it can lead to cavities, gum disease, and even tooth loss. During a checkup, your dentist will thoroughly clean your teeth, removing plaque and tartar buildup that regular brushing and flossing can't completely eliminate. This simple step can drastically reduce the risk of more serious dental issues down the road.
Early Detection Saves Smiles
Have you ever heard the adage "prevention is better than cure"? Well, this saying holds true in dentistry as well. Many dental problems, such as cavities and gum disease, show little to no symptoms in their early stages. Regular dental checkups enable dentists to spot these issues before they escalate, preventing unnecessary pain and discomfort. Moreover, catching dental problems early often means less invasive and costly treatments. A minor cavity, for example, can be treated with a simple filling. However, if left untreated, it could progress to a point where a root canal or even an extraction is necessary.
A Window into Overall Health
Believe it or not, your oral health offers valuable insights into your overall well-being. Dentists can detect signs of systemic diseases like diabetes and even certain types of cancer during routine checkups. For instance, gum disease could be an early indicator of diabetes, as both conditions share a link with inflammation. By addressing oral health concerns, you're not only maintaining a healthy smile but also taking a step toward safeguarding your overall health.
Tips for Scheduling Regular Checkups
Set Reminders: In our busy lives, it's easy to forget dental appointments. Set reminders on your phone or use a planner to ensure you don't miss your scheduled checkups.
Choose a Convenient Time: Pick a time that works best for you. Whether it's during your lunch break or after work, prioritize your dental health by making time for checkups.
Be Consistent: Consistency is key. Aim for biannual visits, but your dentist may recommend more frequent visits if you have specific dental concerns.
Looking for Dentists in North/West Vancouver?
Book your next dental check-up.
What to Expect During a Dental Exam
A dental exam may seem intimidating, but it's a straightforward and painless process. Here's what you can expect:
Professional Cleaning: A dental hygienist will clean your teeth, removing plaque and tartar.
Thorough Examination: The dentist will inspect your teeth, gums, and mouth for signs of decay, gum disease, and other issues.
X-rays: X-rays might be taken to identify hidden issues like cavities between teeth or problems beneath the gumline.
Discussion and Advice: The dentist will discuss their findings, provide advice on oral hygiene practices, and address any concerns you might have.
In conclusion, regular dental checkups are not just about maintaining a bright smile; they are a crucial component of overall health and well-being. Preventative care, early detection of issues, and insights into your overall health are all benefits that come with these routine appointments. By following simple scheduling tips and knowing what to expect during a dental exam, you can prioritize your dental health and pave the way for a lifetime of healthy smiles.
Remember, a little effort today can save you from significant discomfort and expenses in the future. If you are ready to schedule your next dental checkup, contact our dental clinic in West or North Vancouver. Our dentists are welcoming new patients!